Blueberry Citrus Mascarpone Tart
This impressive combination of mascarpone, orange zest, honey, berries, and nutmeg blend into a creamy decadent texture that is not overly sweet.  Bright blueberries are coated in top-shelf raspberry preserve for a punchy flavor that is super easy to create.  Top it all off with cinnamon-nutmeg pie crust swirls for the ultimate party-ready presentation.
Blogger Merry Graham of A Merry Recipe put together this recipe in our Blogger Recipe Contest; she used Wick's 9″ dough circles, but you can also use Wick's 9″ unbaked pie shells and simply thaw and roll flat.  Merry is an award-winning home chef and has been featured on Chopped, Rachel Ray, and even named Healthiest Chef of 2012 by Bobby Flay!  We were thrilled to see her entry in our recipe contest. 
Thanks again, Merry Graham, for the wonderful recipe.  We are so excited to share it!
Ingredients
Yields: one 9″ round or one 13×4″ tart   |  Prep Time: 20 minutes  |  Cook Time: 10 minutes
For the Tart Shell
2 (9-inch) Wick's pie dough circle, thaw 15 minutes before using

1 egg, whisk with 1 tablespoon water

2 tablespoons granulated sugar

1 teaspoon ground cinnamon

1/2 teaspoon ground 

nutmeg
For the Mascarpone Filling
8 ounces mascarpone cheese

1/4 cup sour cream
2 tablespoon half and half cream
3 teaspoons honey, lavender or orange blossom or your favorite
1 orange, zest and juice

1/8 teaspoon or a pinch of freshly ground nutmeg
For the Topping:
2 cups fresh blueberries
1/4 cup seedless red raspberry jam
Long strips of orange zest, sprinkle with sugar
1 bunch fresh basil
Instructions
Preheat oven to 425°F.  Spray a 13" x 4" rectangle or 9" round tart pan, with a removable bottom, with cooking oil. *Note: If a removable bottom pan is not available, place an oversized parchment or foil sheet into the pan, allowing an overhang for lifting the tart out of the pan. 
Fit the pie crust dough into the prepared pan. For a 13-inch rectangle pan two pie crusts are needed. Simply overlap the dough in the center by 1-inch and gently press to seal. Save all dough scraps to make pie crust swirls in Step 4.

Brush egg wash on top of the pie crust dough in the pan. Combine the cinnamon and nutmeg. Place spiced sugar mixture into a small mesh tea strainer, and lightly sprinkle the dough. Lightly pierce the dough with a fork, about 5 times.

*Note: There will be extra spiced sugar left

Cut dough scraps in strips, 1/4" wide by 3-4" long. Start at one end and roll the dough to form a swirl. Brush dough with egg wash and sprinkle with spiced sugar. Evenly space the dough swirls on a parchment paper lined baking sheet.

Place the pie crust tart shell pan and the swirls pan, on the center oven rack, and bake for 7- 9 minutes. Cool crust and swirls before filling with Citrus Mascarpone Filling.

Note: The dough swirls might be done a few minutes before the tart shell has completed baking

Meanwhile, in a standing electric mixer, or by hand, whisk all Citrus Mascarpone Filling ingredients, until smooth. Once the tart shell has cooled, spoon in the mascarpone filling and top with jam sweetened blueberries. Garnish with basil and orange zest.

Note: If your diners are not use to eating herbs on their desserts, I suggest to chiffonade the basil (cut thin strips) so as not to overpower their palate with basil.

Serve immediately for a "pudding" texture citrus mascarpone bite or refrigerate for at least an hour or more for cheesecake texture. Serves 4-6.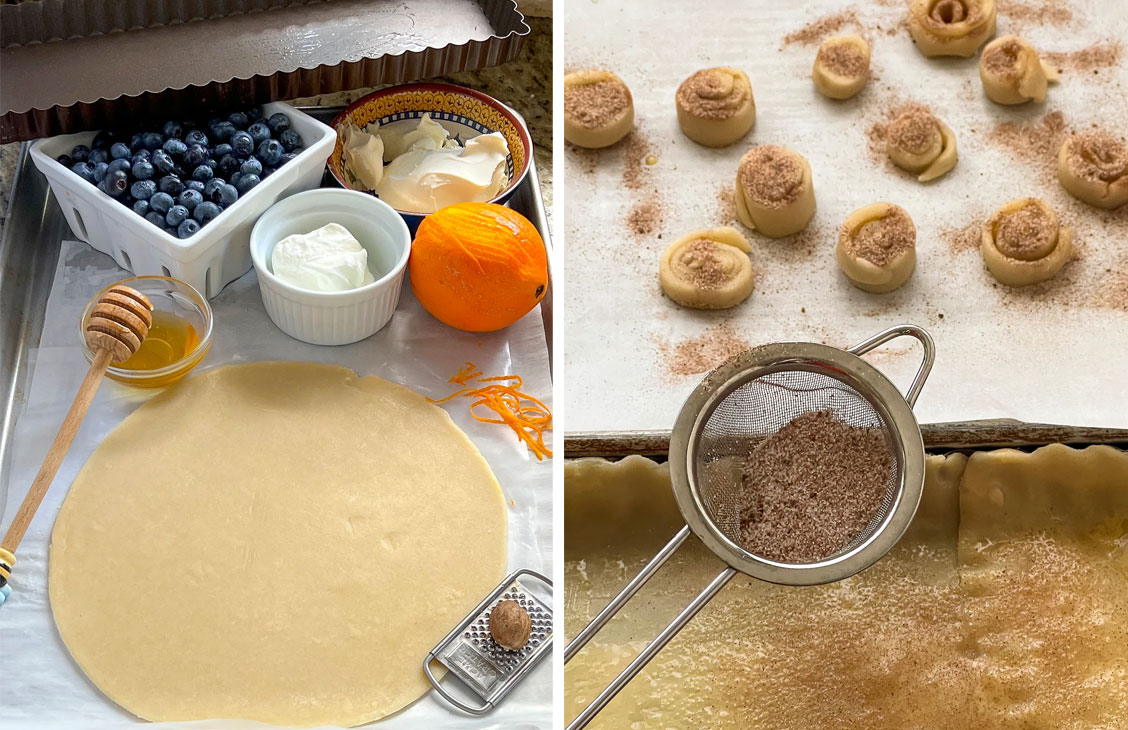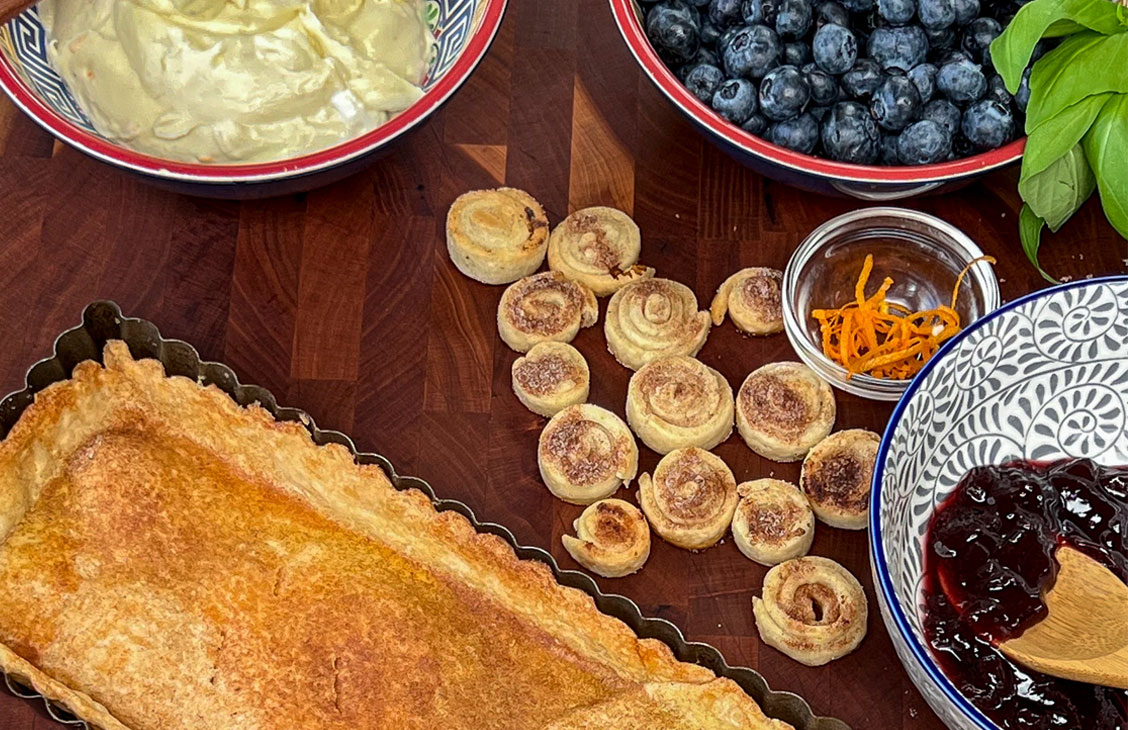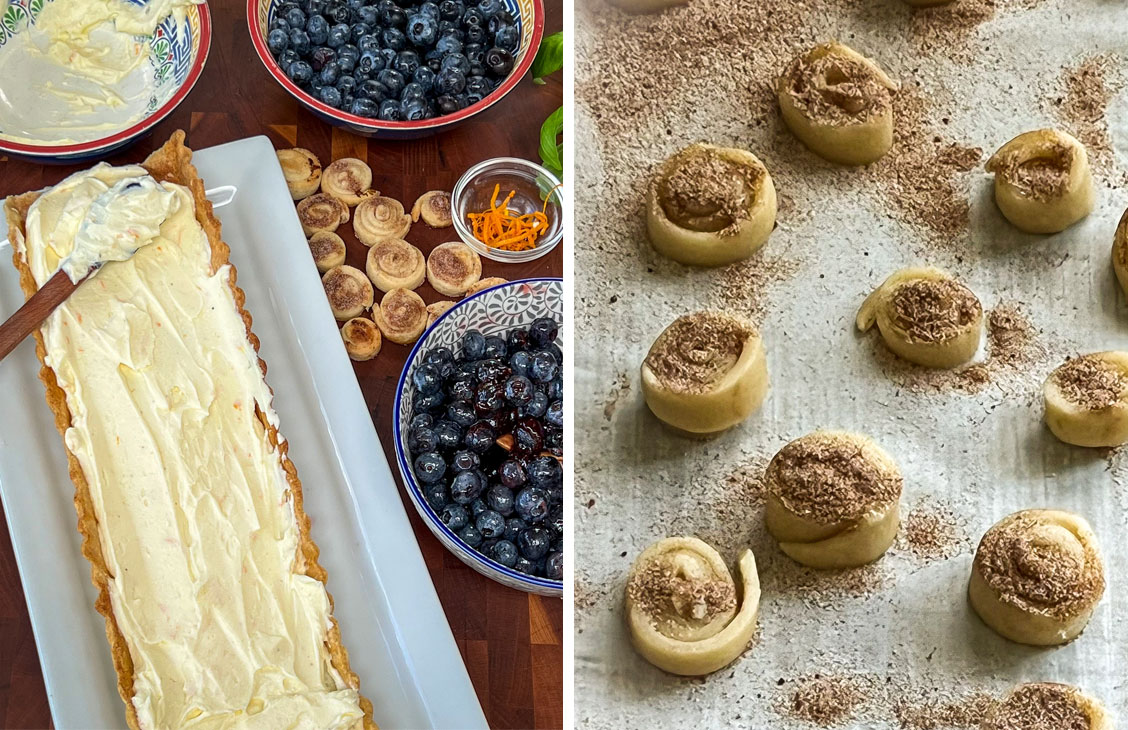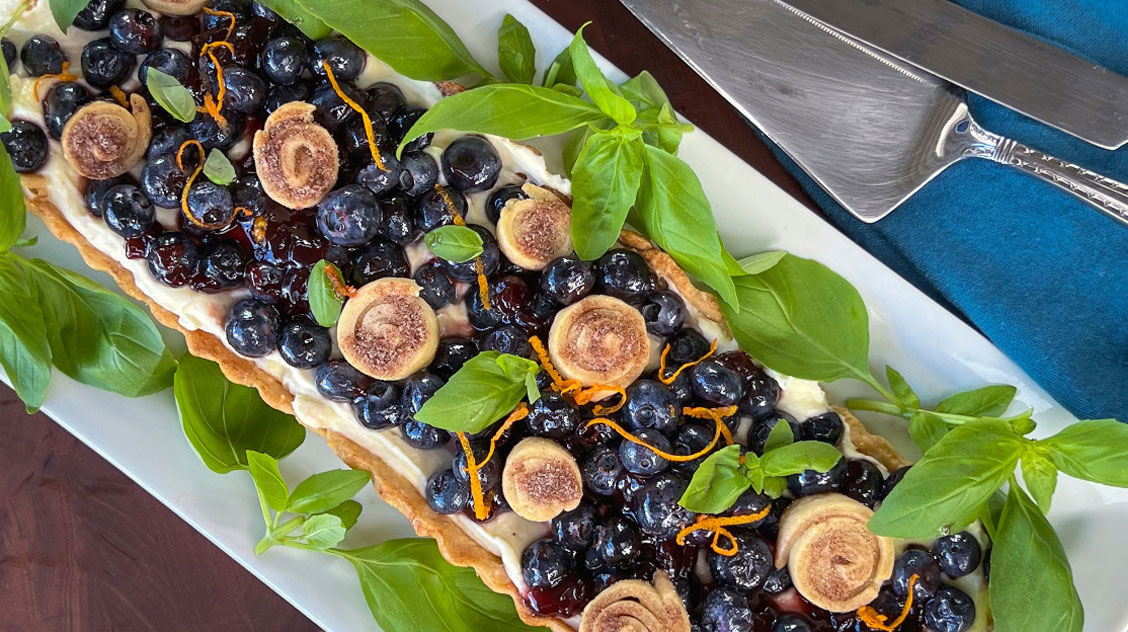 How do you like to use Wick's products in your recipes?
Tag us in your photos, posts, and stories: @wickspies
Be sure to visit Merry Graham's blog for more amazing food inspo: A Merry Recipe
---
Have you gotten your teachers a back-to-school gift?  
Why not bring them a pie?  
Visit our store to purchase the easiest teacher gift every: Goldbelly.com/wicks-pies.