The Grand Prize Winner is…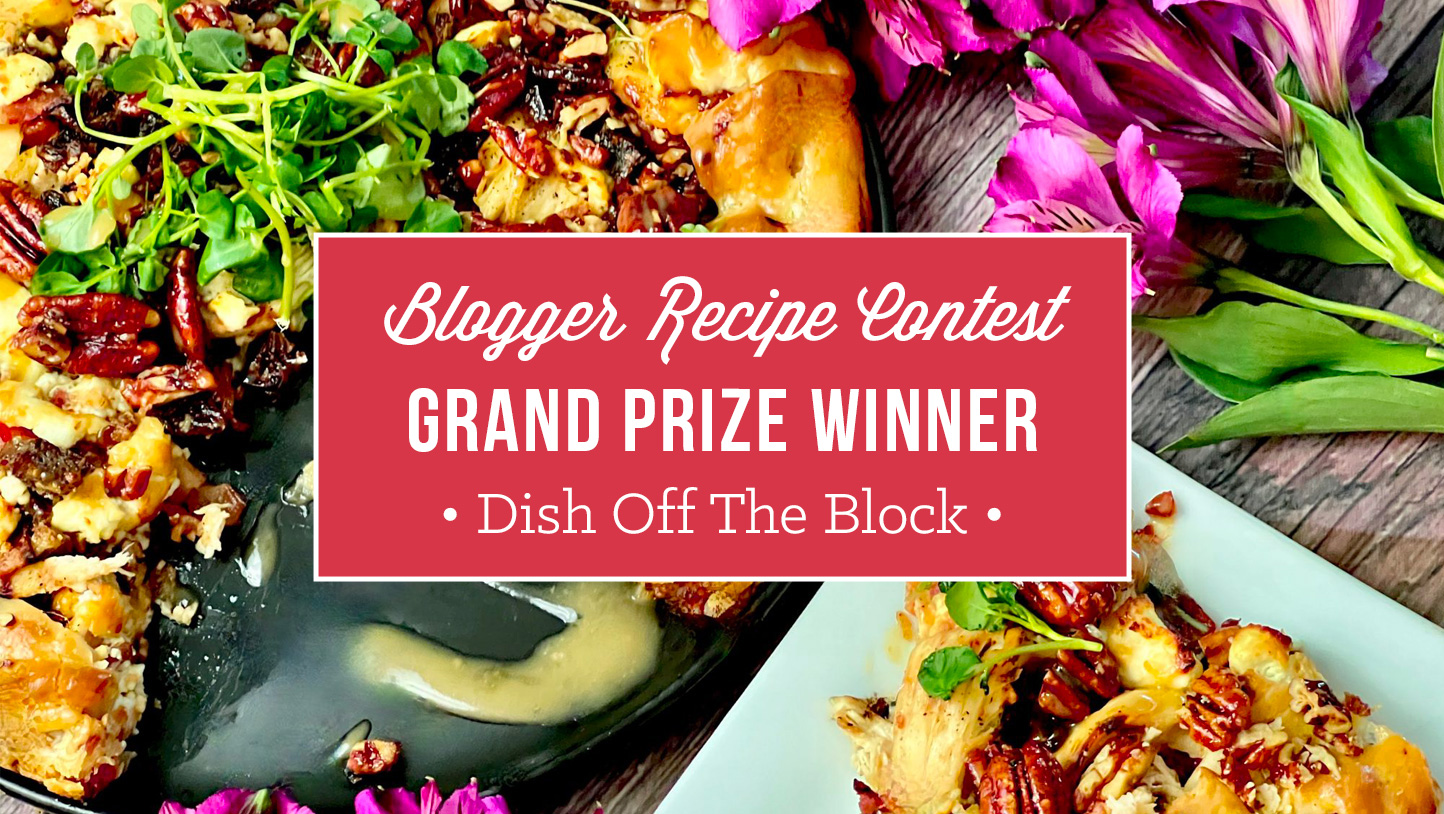 Results are in!  We poured through countless recipes and picked our $1,000 Grand Prize Winner of the Wick's Blogger Recipe Contest: DISH OFF THE BLOCK!  Entries were divided amongst 3 categories – Breakfast, Entrée, and Dessert and included the use of Wick's Pie Dough in each recipe.  From savory galettes to sweet treats, we were NOT disappointed with these dishes.
Read on to see our Grand Prize Winning Recipe, and stay tuned for each of our Category Winning Recipes.
---
The Grand Prize Winner Is…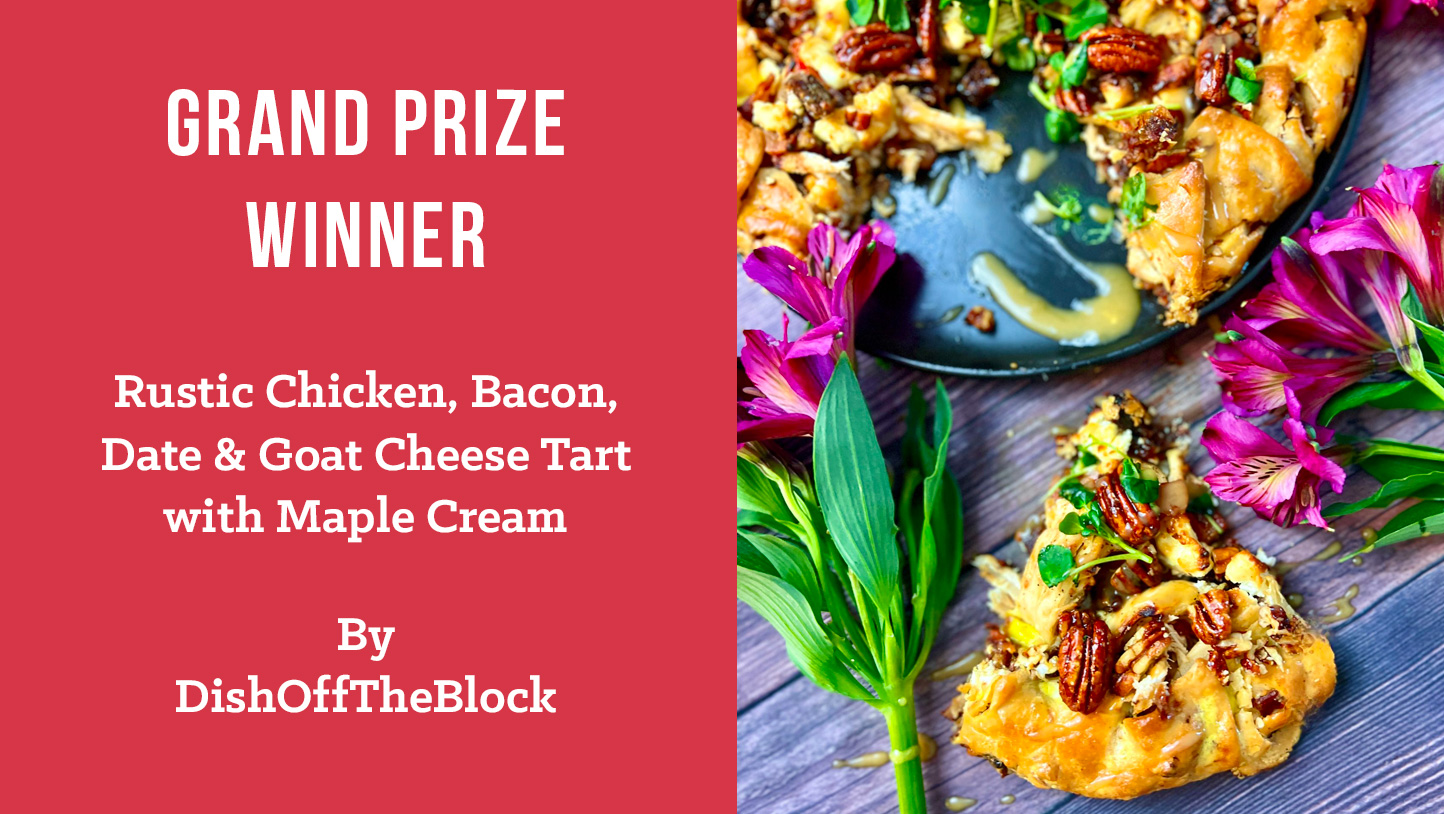 Dish Off The Block!
Rustic Chicken, Bacon, Date & Goat Cheese Tart with Maple Cream
"Simply Divine" does not even begin to describe this perfectly balanced dish.  Salty bacon, sweet dates, tart goat cheese, crispy pecans, creamy maple sauce…does it get any better?Congratulations to Pam of Dish Off The Block!  Be sure to check out her food blog as well as her other award winning recipes.
Click Here For the Recipe (or scroll down the page)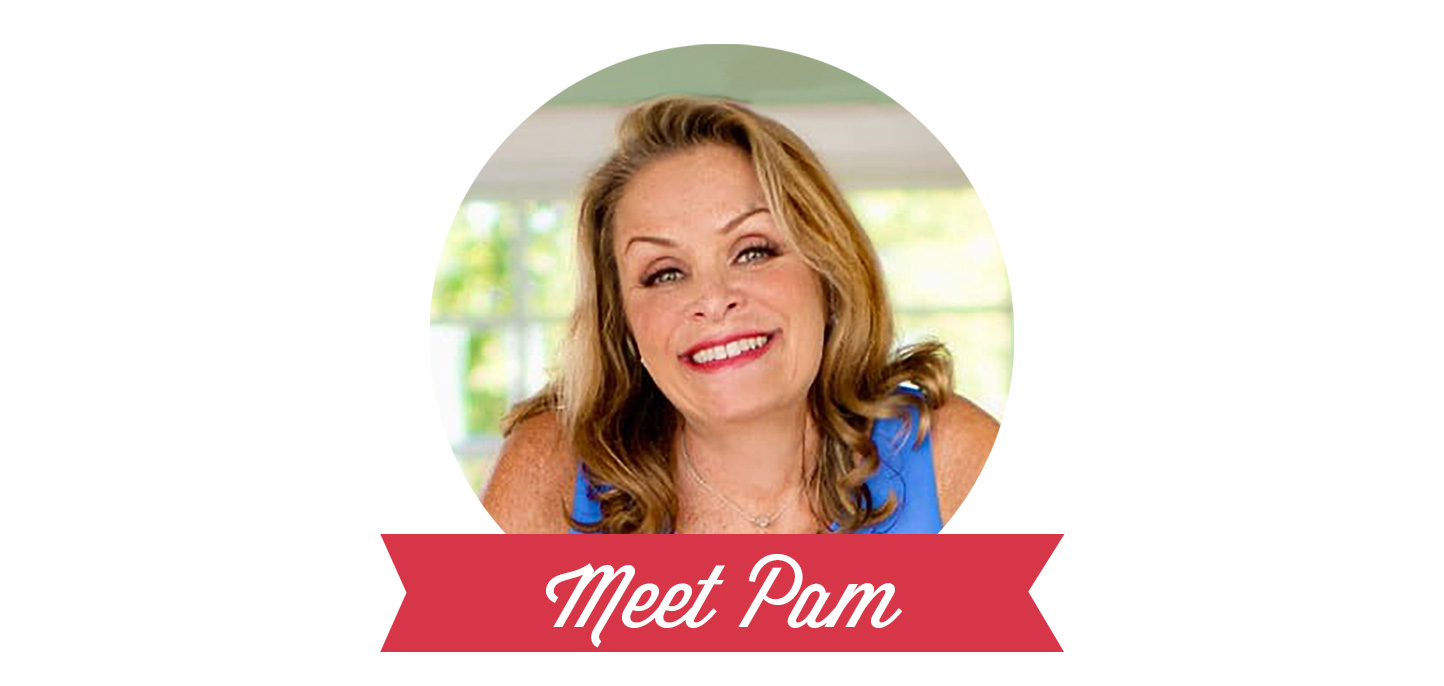 Our Grand Prize Winner, Pam Gelsomini, is more than a seasoned foodie – she has loads of award winning recipes to her name, she's launched her own cookbook & line of spices, and she runs a successful (and fun) food blog, Dish Off The Block.
A lover of travel, Pam fuses flavors from different cultures around the world into each dish, and she certainly knows how to pair her recipes with a fine wine to round out the meal.
Be sure to follow Pam on Instagram, Facebook, Pinterest, and Youtube for more recipe inspiration, and CONGRATS AGAIN!  We devoured Pam's tart recipe, and we're certain you will, too.  Read on for the recipe.
---
Rustic Chicken, Bacon, Date & Goat Cheese Tart with Maple Cream
Yields: One 10″ Tart   |  Prep Time: 40 minutes  |  Cook Time:  1 hour
Grand Prize Winning Recipe brought to us by Dish Off The Block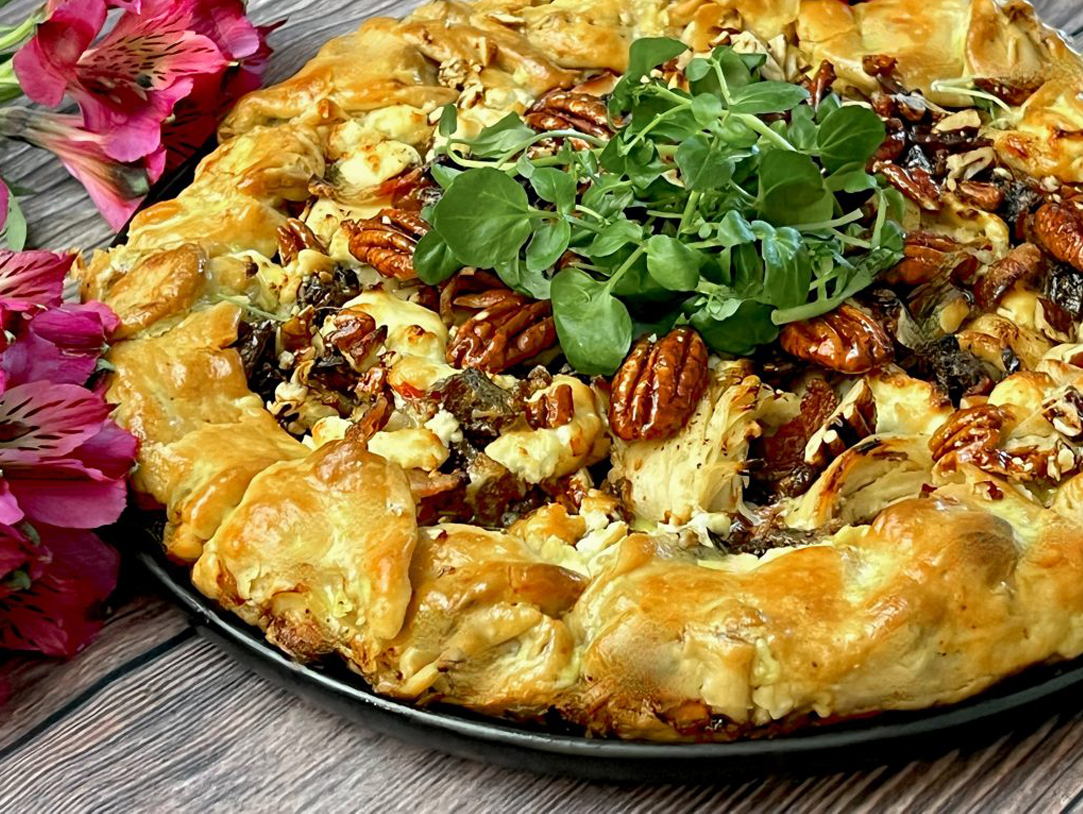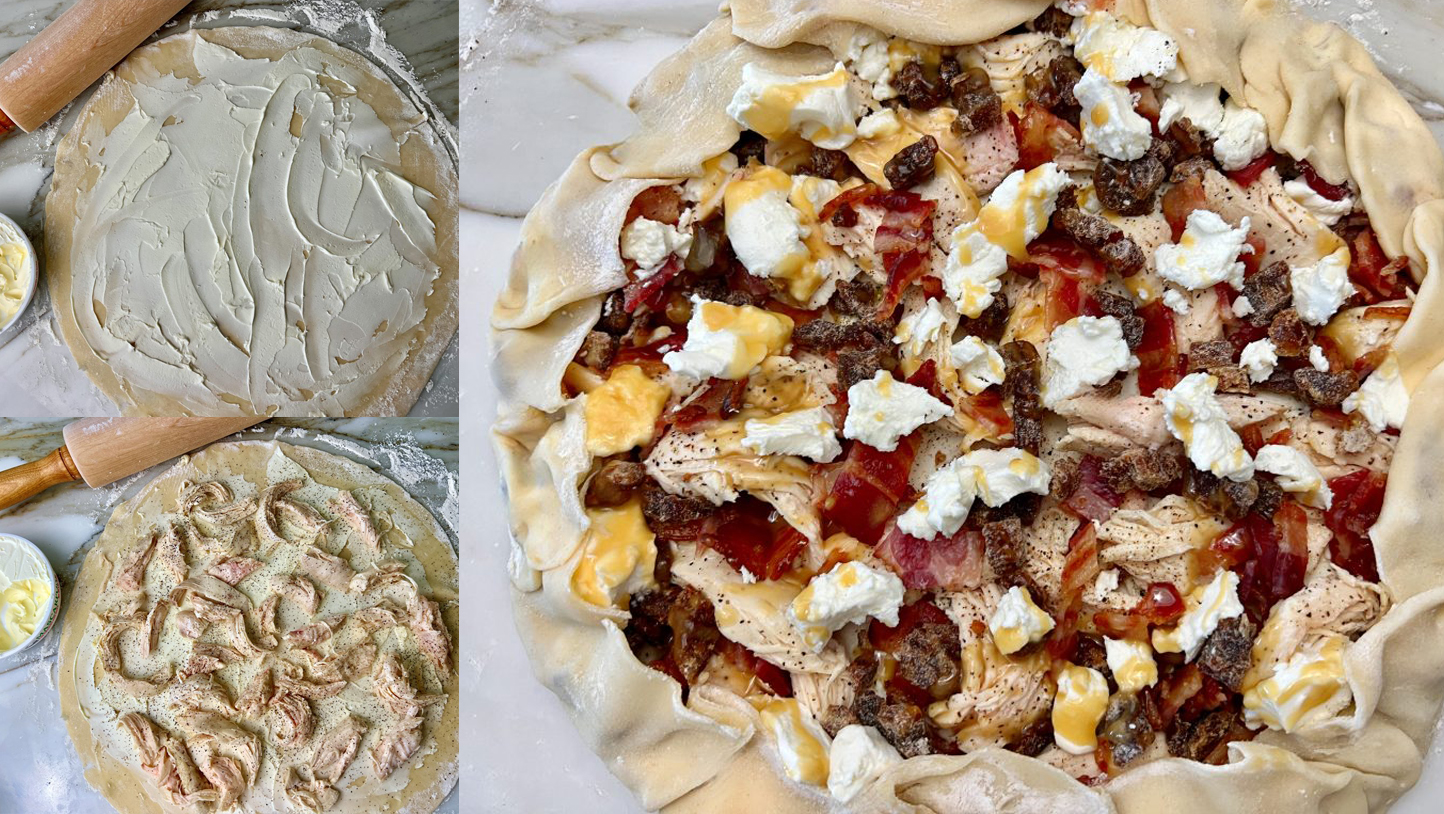 Ingredients
¾ cup heavy cream
¼ cup maple syrup
1 teaspoon Dijon mustard
1 Wick's Pies 9" dough circle
3-ounces mascarpone cheese
1 ¼ cups cooked shredded chicken breast
½ teaspoon salt
¼ teaspoon black pepper
8 slices bacon, cooked crisp and chopped into ½ – ¾" pieces (8-ounces)
½ cup chopped dates
4-ounces goat cheese
1 egg yolk
¼ cup candied pecans, chopped
½ cup pea shoots or watercress
Instructions
Preheat oven to 375.
Combine the heavy cream, maple syrup, and Dijon mustard in a saucepan over medium high heat.  Whisk until smooth and bring to a boil.  Reduce the heat to a very low boil.  Let the sauce reduce for 20-30 minutes by about ⅓, stirring occasionally.
Lightly flour your countertop and rolling pin.  Roll the pie dough in a disc approximately 14" in diameter.  Place the dough on a large parchment-lined baking sheet.
Using an offset spatula, spread the mascarpone cheese evenly over the dough, leaving about 2-3" around the edges exposed.  Top the mascarpone with the shredded chicken and season it with the salt and pepper.  Top the chicken evenly with bacon and dates.  Crumble the goat cheese over the top and drizzle with ¼ cup of the maple cream sauce.
Fold the exposed pie dough over the filling, overlapping the dough on itself as you go, creating a rustic crust.  Most of the filling will still be exposed in the center of the tart.
Beat the egg yolk with 1 teaspoon of water.  Brush the egg wash all over the crust.
Bake for 40-50 minutes until the crust is golden brown and the filling is lightly browned and bubbly.
Sprinkle the chopped candied pecans over the top and drizzle with more of the maple cream sauce.  Place the pea shoots in a pile in the center of the tart.  Garnish with some whole pecans if desired.
Cut into wedges and serve hot with more of that yummy sauce on the side.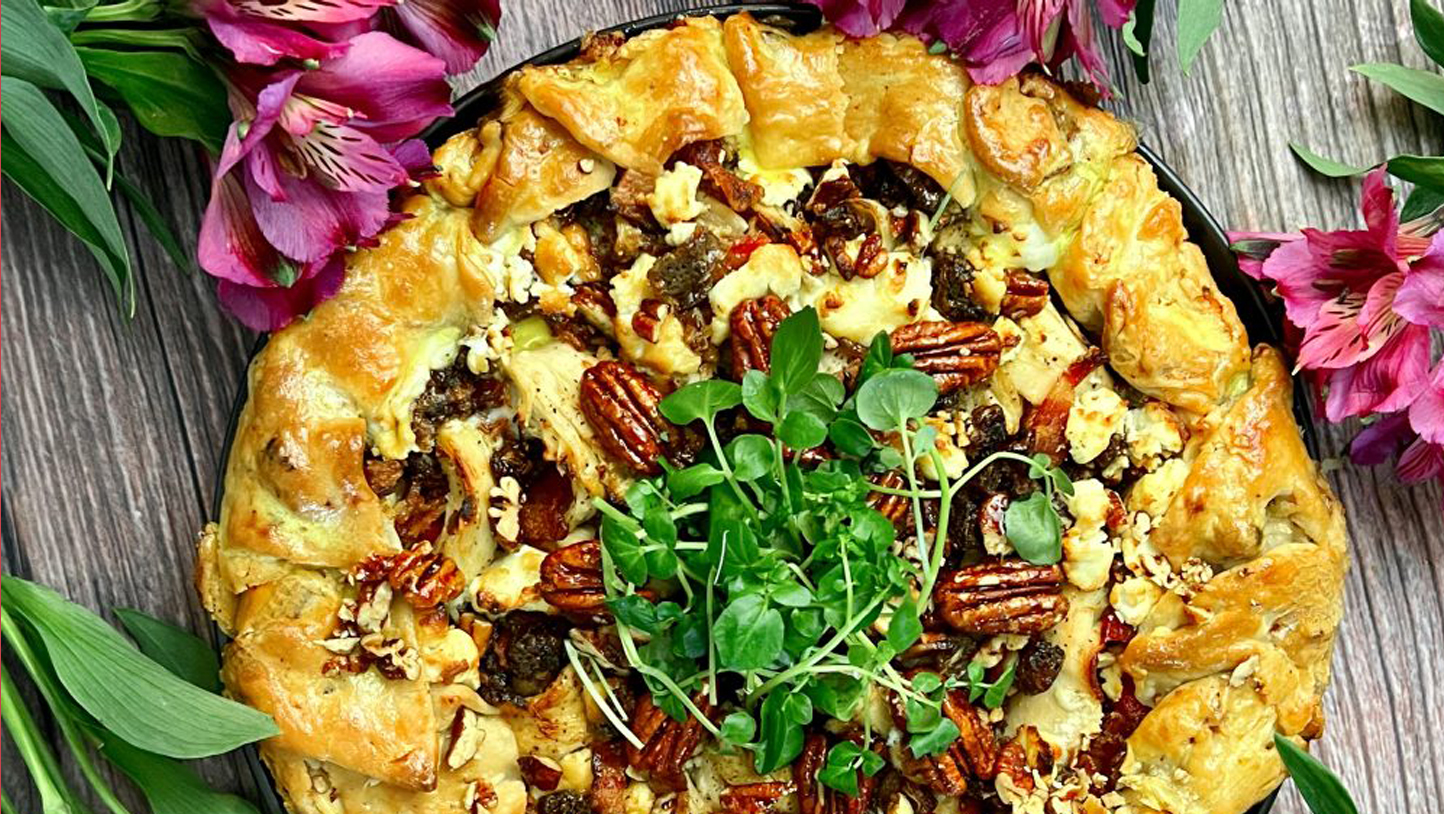 A huge THANKS to all of our contestants – we can't wait to feature your recipes, too!  Stay tuned for our Category Winning recipes coming up next!
How do you like to use Wick's products in your recipes?
Tag us in your photos, posts, and stories: @wickspies