Chicken & Butternut Squash Galette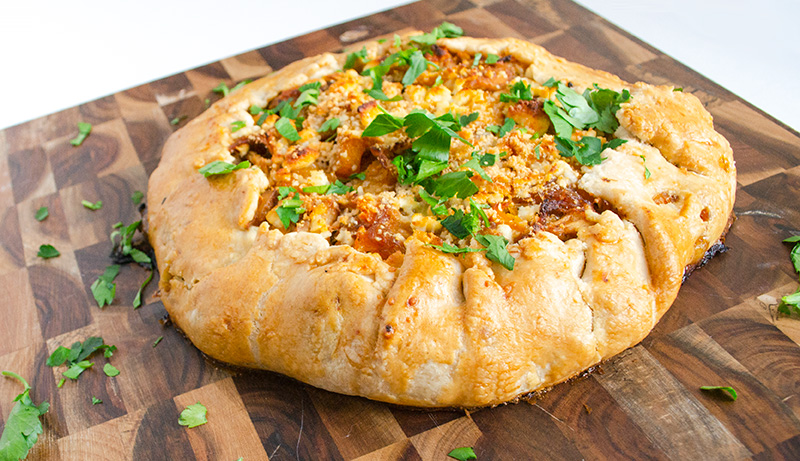 Savory or sweet, we love a galette any time of the year.  This particular recipe has some serious autumn vibes – roasted butternut squash, caramelized onions, and feta.  Let's turn our ovens back on and get baking!
This recipe uses Wick's 10″ Dough Sheets OR Wick's 9″ unbaked pie shells (available at your local grocery store in the frozen desserts section).
Want to skip a step?  Use leftover chopped rotisserie chicken to save on time.
Ingredients
Yields: 2 full-size galettes or 6 minis  |  Prep Time: 40 minutes  |  Cook Time: 40 minutes
2 Wick's 10″ Dough Sheets (or 2 Wick's unbaked pie shells)
3 Tbsp Olive Oil
1 Butternut Squash (medium size, cut in 1/2″ cubes)
Salt & Pepper to Taste
2 Chicken Breasts (or 2.5 cups leftover rotisserie chicken)
1 Sweet Onion (large size, sliced in rounds)
2 Tsp Balsamic Vinegar
1 Tbsp Brown Sugar
1 (4oz) package of Crumbled Feta
1 Egg (beaten)
Chopped Italian Flat Leaf Parsley (optional for serving)
Instructions
Preheat oven to 400.
Toss the butternut squash cubes with 1 tbsp olive oil, salt, and pepper.  Spread the cubes onto a cookie sheet and roast in the oven for 30-40 minutes (we like ours caramelized, the full 40!).
Meanwhile, heat 1 tbsp olive oil in a pan on Medium.  Salt and pepper the chicken breasts, and cook on the stovetop for 5-7 minutes on each side, or until cooked through.  Feel free to season the chicken to your liking (we like to add garlic and thyme, but plain salt and pepper is also great). Set chicken aside, but keep the pan on the stove.  You can skip this step altogether and use rotisserie chicken that is ready to go.
Turn the stovetop down to Low.  In the same pan that you just cooked the chicken, add the sliced onions, additional olive oil, and a few teaspoons of water (just to keep the onions from burning/sticking too much).  Cover the pan with a lid and cook onions on low for 10-15 minutes or until starting to caramelize.  Add the balsamic vinegar and brown sugar at the end of the cook time. Finish cooking the onions in the vinegar and sugar for 1 minute, then remove from heat.
In a large mixing bowl, shred the chicken.  Add the caramelized onion mixture to the chicken, as well as the roasted butternut squash.  Toss in the whole container of feta and stir to combine.  Set aside.
On lightly floured surface, roll out 2 Wick's 10″ Dough Sheets (or unbaked shells) and cut the dough into 2 large 10″ circles, or smaller 5″ circles.  If making the small size, you will need to cut 4 circles, then take the scraps and re-roll them flat for the additional circles.
Place dough circles on baking sheets lined with a non-stick baking mat or parchment paper.  Evenly spoon the savory mixture into the center of your dough circles, being careful to leave approximately a 1 1/2 inch border free of filling at the edges in order to fold and seal the dough.
Gently fold over the edges of the dough circle, folding the dough in on itself to create a "rim" of crust.  Lightly press the folds to seal them.
Make an egg wash by beating the egg and water together.  Brush the dough around the pie with the egg wash, then sprinkle the dough and top of the filling with salt, if desired.
Turn down your oven and bake the galettes at 375 for 40-45 minutes until golden and bubbly.  Let cool on the pan for at least 10 minutes prior to serving.  Top with chopped flat leaf parsley, if desired.
---
How do you like to use Wick's products in your recipes?
Tag us in your photos, posts, and stories: @wickspies
---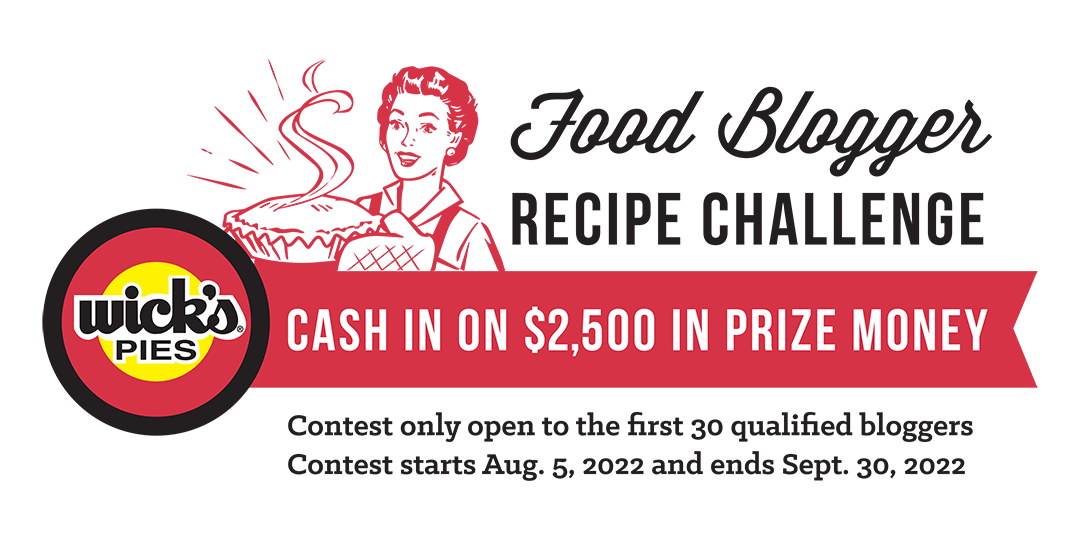 Calling all fellow Food Bloggers! Share your culinary skills using Wick's products to create recipes that have no rules, only the pursuit of deliciousness. Savory or sweet, we want recipes that "WOW" us!   Sign up, you may just be our Grand Prize Winner!!!!
All qualified participants will receive 3 (three) Wick's 9" Dough Circles to aid in recipe creation.  Contest categories include: Entree, Dessert, and Breakfast.