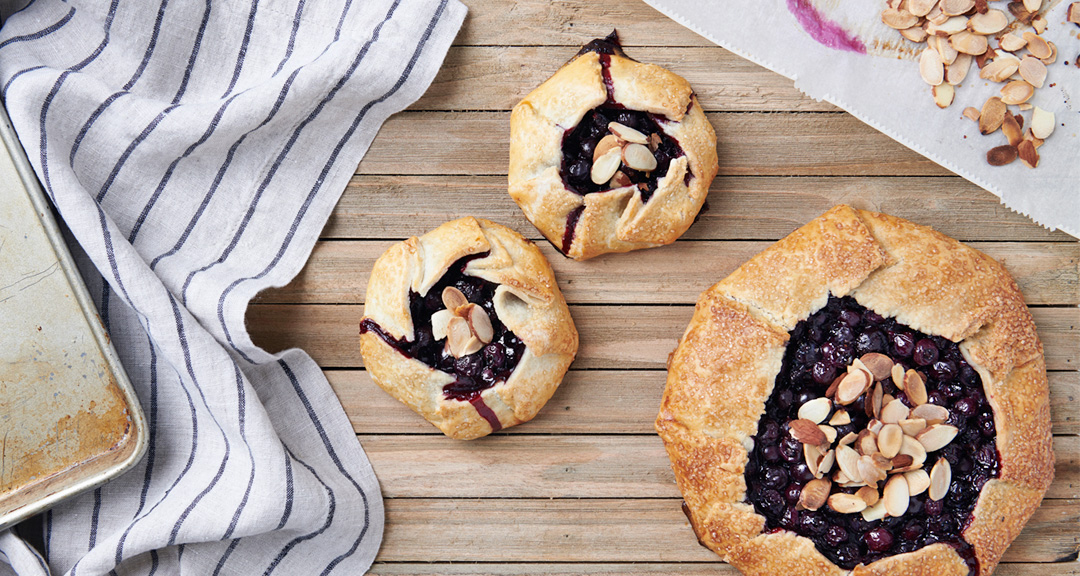 Spring is coming!  You know what that means?  It means Pi Day (3.14) is almost here!  We love to celebrate this fun holiday by making, eating, and sharing pie with friends and family.
These warmer days have us ready for more fruit pies, so we created a freeform galette pie recipe to share with you.  This recipe uses Wick's 10″ Dough Sheets OR Wick's 9″ unbaked pie shells (available at your local grocery store in the frozen desserts section).
Ingredients
Yields: 2 full-size galettes or 6 minis  |  Prep Time: 20 minutes  |  Cook Time: 40 minutes
2 Wick's 10″ Dough Sheets (or 2 Wick's unbaked pie shells)
3 cups fresh Blueberries
1/4 cup Sugar
2 1/2 tbsp Cornstarch
1 Lemon (zest and juice)
1 tsp Vanilla extract
1/4 tsp Salt
1 Egg (beaten)
1 tbsp Water
1/4 cup Turbinado Sugar
1/4 cup toasted almonds (optional for serving)
Instructions
Preheat oven to 375.
Stir together blueberries, sugar, cornstarch, zest from half a lemon, juice from half a lemon, vanilla, and salt in a bowl.  Place in the refrigerator for 15 minutes.
On lightly floured surface, roll out 2 Wick's 10″ Dough Sheets (or unbaked shells) and cut the dough into 2 large 10″ circles, or smaller 5″ circles.  If making the small size, you will need to cut 4 circles, then take the scraps and re-roll them flat for the additional circles.
Place dough circles on baking sheets lined with a non-stick baking mat or parchment paper.  Evenly spoon the berry mixture into the center of your dough circles, being careful to leave approximately a 1 1/2 inch border free of filling at the edges in order to fold and seal the dough.
Gently fold over the edges of the dough circle, folding the dough in on itself to create a "rim" of crust.  Lightly press the folds to seal them.
Make an egg wash by beating the egg and water together.  Brush the dough around the pie with the egg wash, then sprinkle the dough and top of the filling with the Turbinado sugar.
Bake for 40-45 minutes until golden and bubbly.  Let cool on the pan for at least 15 minutes prior to serving.  Top with toasted almonds, if desired.
Tip: You can make galettes with any berries or stone fruits; just be sure to drain off the excess liquid from the berry mixture prior to filling your galettes.  This helps keep the galettes from leaking so much (although we don't mind a little extra berry sauce!).
How do you like to use Wick's products in your recipes?
Tag us in your photos, posts, and stories: @wickspies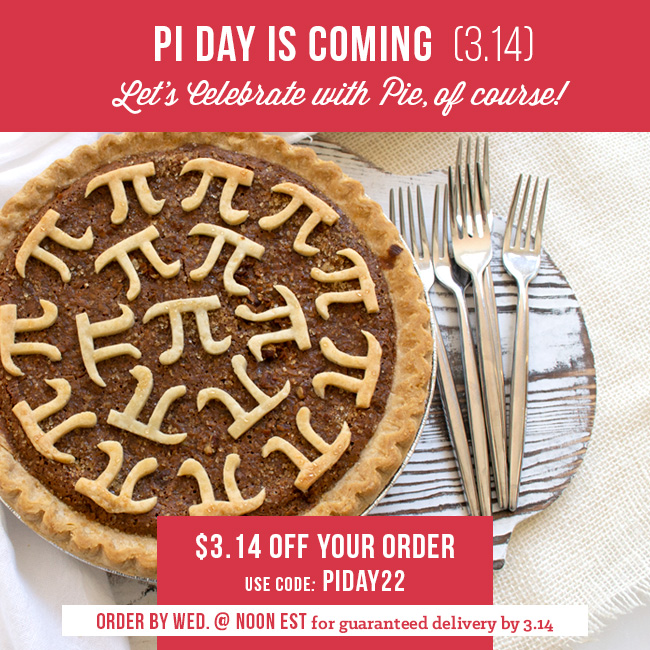 And yes, PI DAY is almost here!  Order your Wick's Pie online to celebrate the big day.  Visit our online store at Goldbelly.com/wicks-pies.
We can now ship Wick's Pies directly to your doorstep!  Order by noon on Wednesday to get guaranteed delivery for 3.14 Pi Day!