Italian Sausage with Feta Star Pies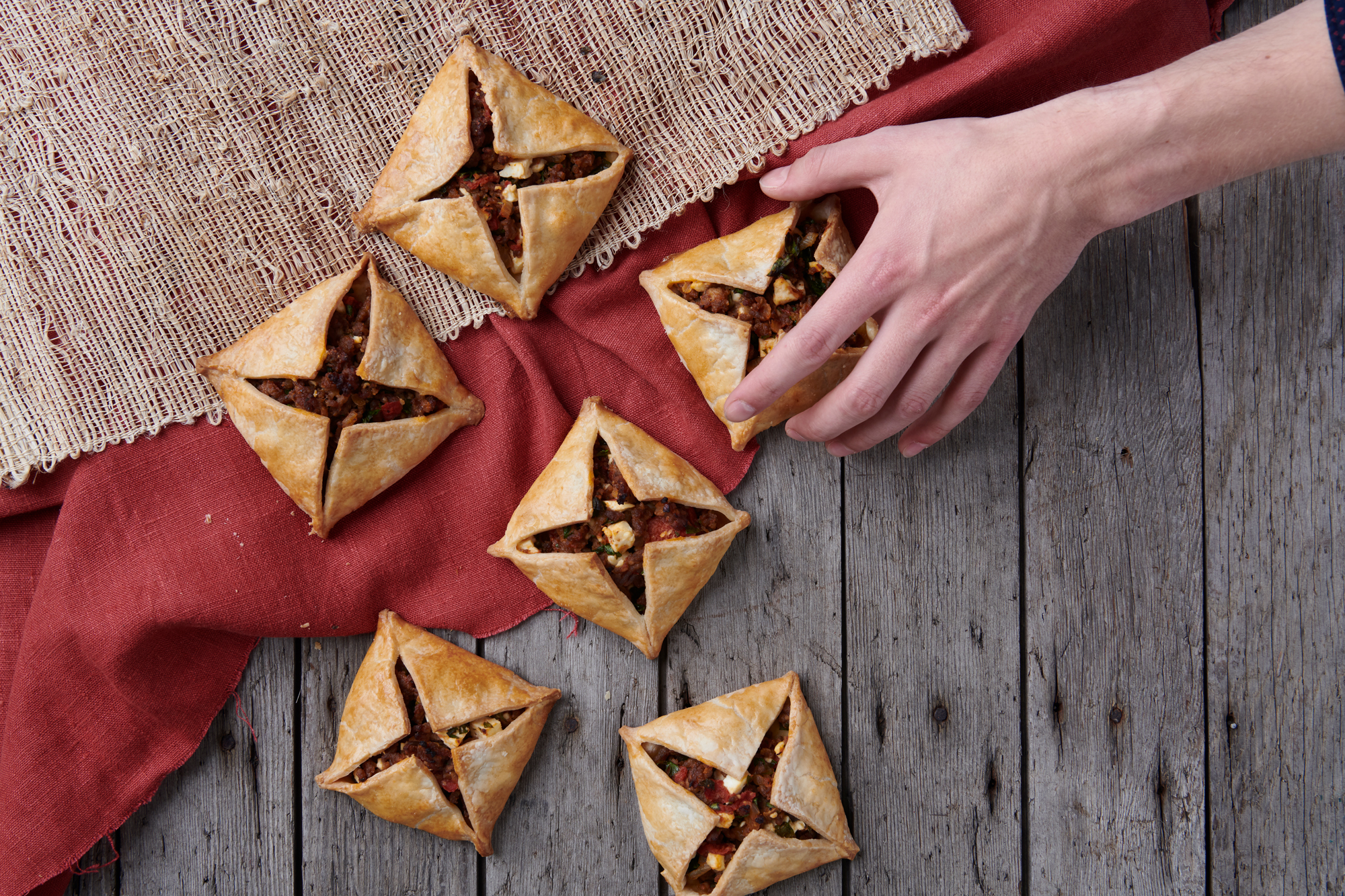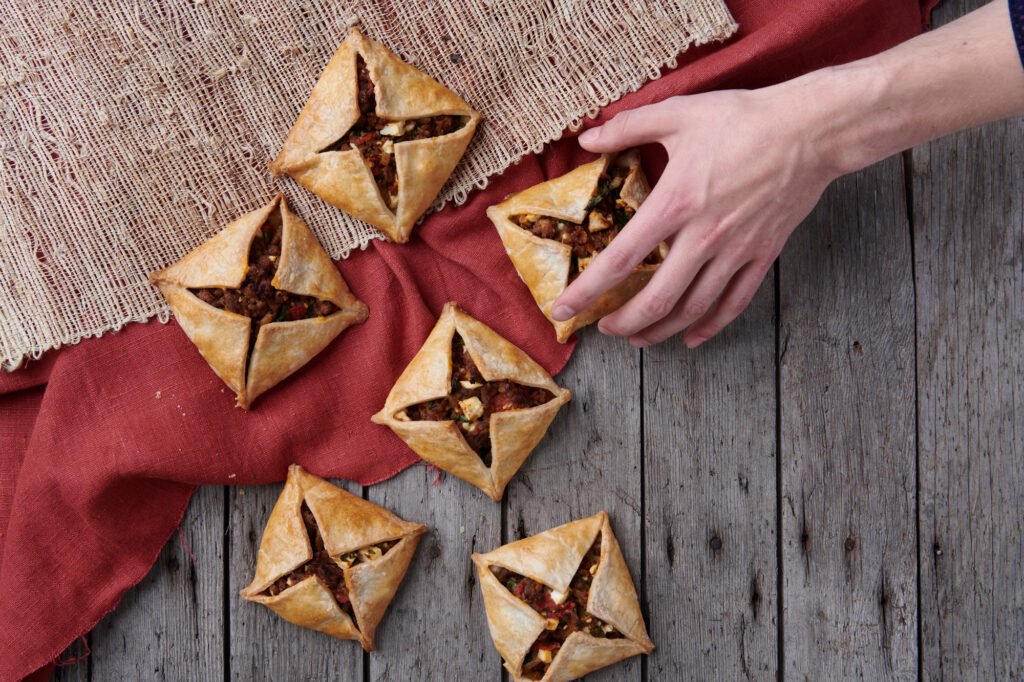 There's something oh-so-cozy about a toasty hand pie on a cold winter night.  These star pies will warm bellies (and hearts) with their spicy Italian sausage, garlic, and deliciously salty feta cheese.
This recipe uses Wick's 10″ Dough Sheets OR Wick's 9″ unbaked pie shells (available at your local grocery store in the frozen desserts section).
Ingredients
Yields: 8 star pies  |  Prep Time: 25 minutes  |  Cook Time: 40 minutes
2 Wick's 10″ Dough Sheets (or 2 Wick's unbaked pie shells)
1 tbsp + 1 tsp olive oil
1 lb. Italian sausage
1 large onion
1/2 tsp crushed red pepper flake
2 cloves garlic, minced
15 oz. can Italian diced tomatoes
6 oz. feta cheese, crumbled
1/2 cup flat-leaf parsley, chopped
1 egg, lightly beaten
salt and pepper to taste
Instructions
Preheat oven to 425.
Heat 1 tsp oil in large skillet.  Crumble sausage into pan, stirring occasionally until browned (about 5 minutes).  Transfer sausage to paper towel-lined plate and set aside.
Add remaining 1 tbsp olive oil to the pan and cook onions for 5 minutes or until starting to brown.  Add red pepper flake and garlic, as well as salt and pepper to taste.
Add can of tomatoes to the onions, and cook for 5 minutes until they release their juices.  Add reserved sausage back into the pan.  Stir to combine, then remove from heat and let cool completely.
Stir in feta and parsley once the filling is cooled.
On lightly floured surface, roll out Wick's Dough Sheets (or unbaked shells) and cut the dough into four 5″x5″ squares,
Place 1/2 cup filling into the center of each square, being careful to strain off excess liquid.  Fold each corner of the dough over the filling to the center, but do not let the corners touch each other.  Leave about 1/4″ of space between them.
Transfer star pies to prepared backing sheets and top the dough with beaten egg and a dusting of salt and pepper (optional).  Bake for 40 minutes or until crust is golden brown.  Serve warm.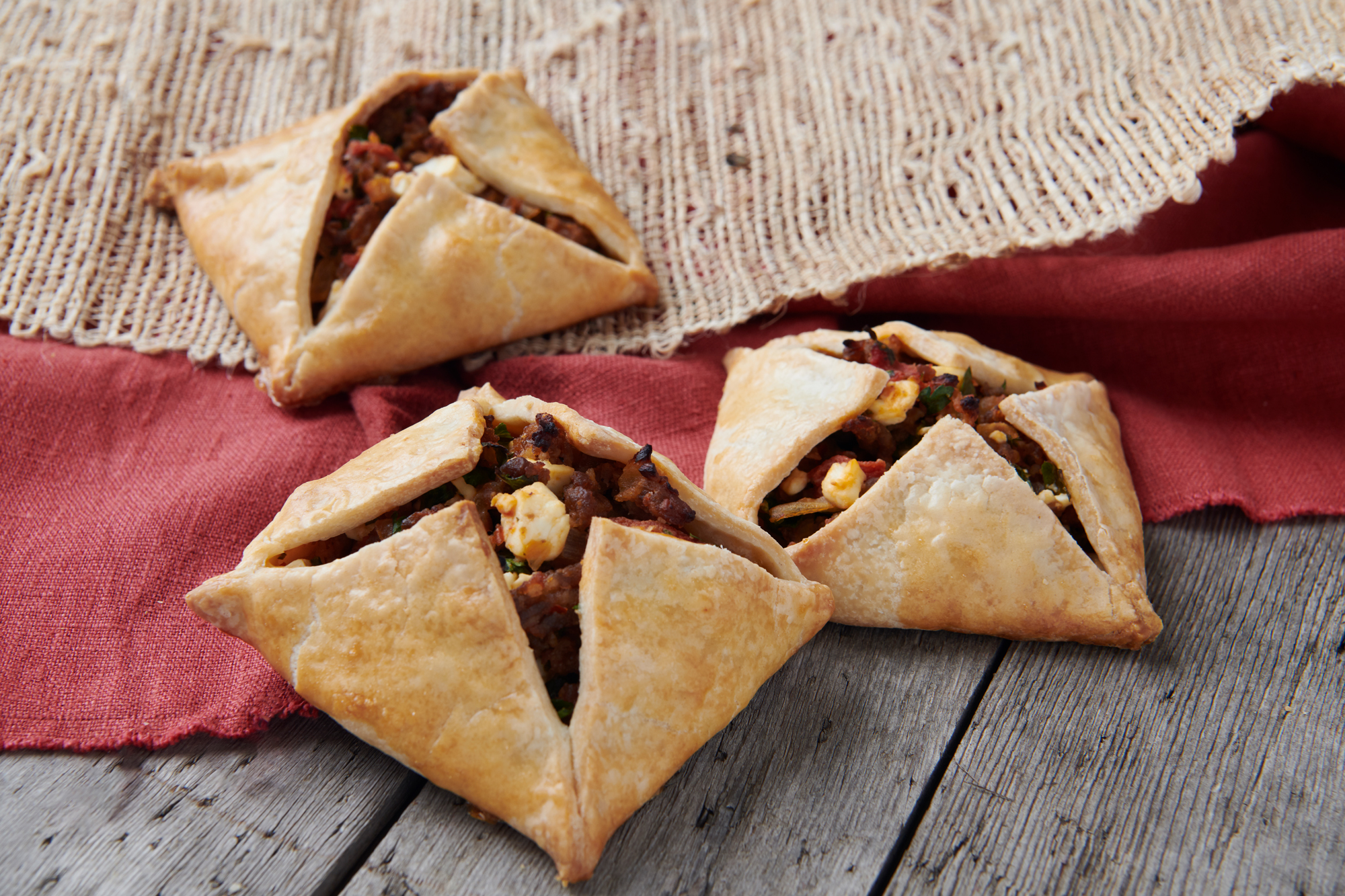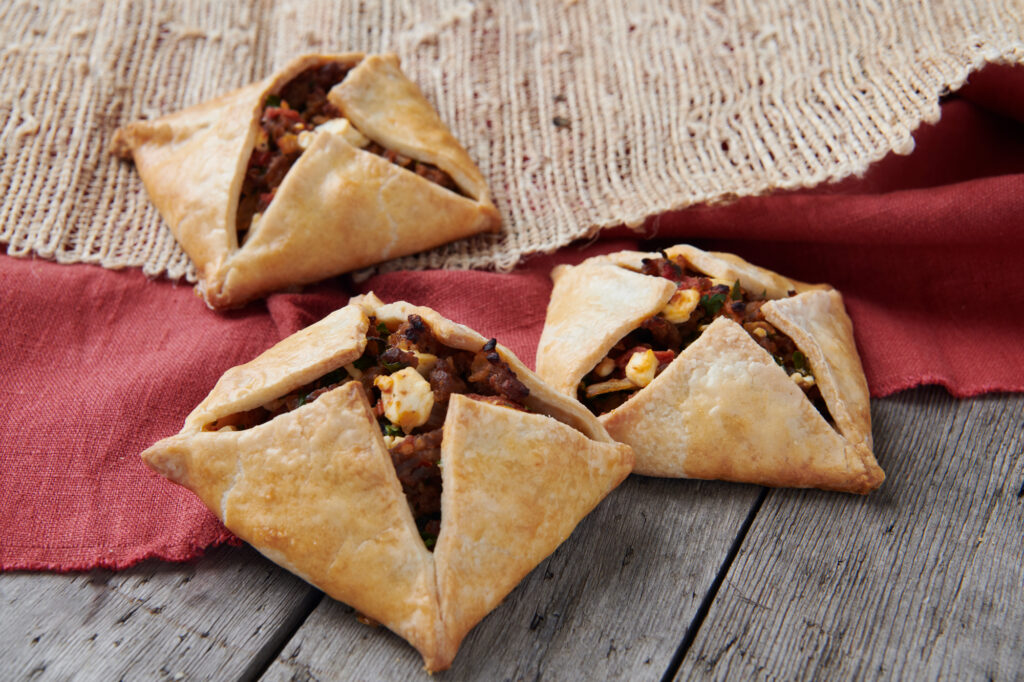 Going meatless?  You can create a vegetarian version by using chopped mushrooms instead of sausage.  Add yellow and green bell peppers as well as a few dashes of Italian seasoning  for extra flavor, and don't forget to strain off the excess liquid.
How do you like to use Wick's products in your recipes?
Tag us in your photos, posts, and stories: @wickspies